'It's important to show art that reflects different people'
A new project aims to showcase the work of artists who reflect one of New York's most diverse and historic neighborhoods
139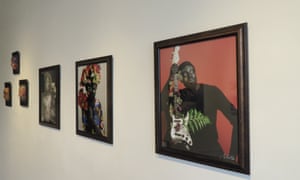 Cultural Diversity at X Gallery. Photograph: X Gallery
"Harlem is the most culturally diverse community in New York City, period," says Lisa DuBois co-curator of a new project aiming to pay homage to the neighborhood's cultural legacy.
Together with Ademola Olugebefola, she's behind Cultural Diversity, a venture featuring young artists from the area that's brought to life with SaveArtSpace, a public art initiative and Harlem-based X Gallery.
Three public advertising spaces at bus stops across Harlem will feature works alongside an accompanying exhibition.
"Because of the gentrification that can be argued either way, a community of people from all areas of ethnographic backgrounds is in Harlem and this art project speaks to the political, to what's happening today; it's important to show art that reflects different people," Dubois says.
The public art exhibition will feature the works of three local New York artists, including Rod Sanchez. The illustrator, whose work can be seen at the corner of West 116th Street and Fifth Avenue, is showing a piece called One Vision, which envisions a world in unity as people stand with unidentified flags, representing peace among nations.
"This is so on point and on time considering the political climate, which is permeated into the global spectrum, it's a complex issue and emotional one, as well," said DuBois . "Anything I can do to promote diversity among cultures is extremely important to me, especially because of what is happening right now."
At the corner of Frederick Douglass Boulevard and West 116th Street, they're featuring a piece by the Brooklyn-based Tiffany B Chanel. The artist has painted a portrait of Paola, a Harlem resident from Haiti who came to New York City in 2014. Paola launch a head scarf company called Fanm Djanm, which means Strong Woman in Haitian Kreyol. "What I liked about this piece is that the colors of the woman's face are in yellow, brown and beige, which reflects many different people with ethnic backgrounds," said DuBois
Also showcased will be the photographer Ceres Henry, whose work can be seen at Malcolm X Boulevard and West 118th Street. The photo features the backside of a naked black man standing before a yellow background, with his body painted by the photographer. "The series is to highlight black and African men as works of art and be admired and celebrated, not feared, abused and looked down upon," says the artist. "This series counters the negative stereotypes against them."
Harlem's cultural diversity has a long history. As the largest district in northern Manhattan, Harlem is home to 131,900 people, predominantly black and Hispanic residents, according to a 2015 report from NYC Planning. It's quickly gentrifying with luxury condominiums and a Whole Foods on 125th Street, and there is talk of Harlem's new renaissancewith a hipster influx, as the black population is less than it was a decade ago.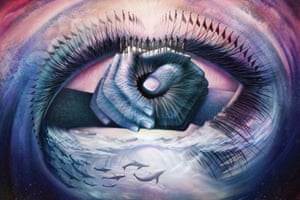 Rod Sanchez, One Vision. Photograph: Rod SanchezAd
While much of Harlem's historical cadence dates back to the Harlem Renaissance of the 1920s, a cultural revolution with black writers and jazz musicians, it was also the headquarters for the Black Arts Movement, which emerged in the 1960s to help unite black voices, not to mention the Harlem Writers Guild which included Maya Angelou. Annual cultural celebrations in the district include Harlem Day on 19 August, the African American Day Parade every September. This public art project opens ahead of the forthcoming 44th annual edition of Harlem Week, a month-long event which kicks off 29 July with 100 cultural events across the district.
But besides the historic Keith Haring mural, touristic art crawls and a handful of top-tier art galleries like Gavin Brown and Elizabeth Dee, the art scene here has been overlooked. It comes as a bit of a surprise considering there are notable cultural institutions like the Dwyer Cultural Center, which celebrates the Harlem community's cultural life, and the Studio Museum in Harlem, which is currently under renovation. There is also the Schomburg Research Center for Black Culture and Art in Flux, a non-profit which uses abandoned spaces in Harlem for pop-up art exhibits.
But is it really just a real estate renaissance? While rents in Harlem are lower than other parts of Manhattan, they're quickly rising. However, the art gallery where DuBois works, Gallery X – which is on Malcolm X Boulevard – is a community-focused project made possible by the Harlem real estate agent John McGuinness, who donated the gallery to give back to the community. "The space would cost a fortune," said DuBois . "We only take 30% from our artists, and it's because we have the space at a discount."
It could be the start of a burgeoning art scene boom in Harlem, as there continues to be hope for its cultural development. "It's like we're pioneers, people will look back in 20 or 30 years from now and say 'this was the beginning,'" said DuBois . "We're in the evolution of Harlem, it's constantly going to change."
SaveArtSpace: Cultural Diversity will be on show at X Gallery until 1 August
Topics